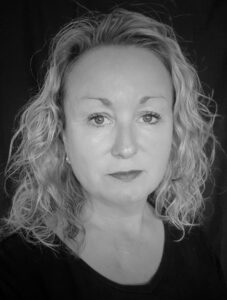 ---
Lærce Østergaard (born 1971) is a Danish self-taught collage artist and the person behind "Baryhl-Art."
The artistic and creative genes come from my upbringing; primarily from my father's side of the family.
My grandfather was a painter, my father was a sculptor and my mother was a visual artist, educated from Kolding Artisan School – today called "The Danish School of Design."
I grew up in a home that partly served as a workshop and where creative pursuits were often going on, and I therefore have a childhood and upbringing behind me that oozed with art and creativity; where it was possible to unfold ideas and creativity as a child, and where there was always access to various materials.
In addition, my brother and I became acquainted early on with exhibitions and vernissages, which also has been a large part of our childhood.
Creativity fills my entire universe; both in terms of visual and creative expression but also in my way of thinking and wealth of ideas, which has followed me all my life, but first really came into an expression in 2019, where I realized that I had to work with -and process my creativity in new and far more artistic ways.
My mother was one of the pioneers in photo collage (- before the computer age and before digital SLR camera and various photo programs) and she found her primary inspiration from construction sites, structures and patterns in both nature and various materials.
The images were evoked as negatives, and for hours she experimented with the negatives; standing at a light table, putting the negatives together layer upon layer until she stood with a result, she was happy with.
The finished slides were sent to a photo lab, which developed the photo collages and sent them back for review.
All this work, producing a single photo collage, are the basic for my inspiration and passion for collage work today.
All my collages are handmade. The paper material is either torn or cut out and all finesses, additions and effects are applied subsequently layer by layer.
A single collage can therefore take a long time to construct. It all depends on the size of the canvas, motif, features and the simple details.
Finally, the collage is varnished.
Since 2019, I have experimented with different forms of expressions and materials and made many experiences, but every time I am led back to the work with collages and its many possibilities for expressions in context to my mother's artistic work with photo collage as a starting point.
I'm primarily inspired by genres like street art and pop art, and like the "noisy" expression.
I prefer a high energy in my collages, which can be expressed in strong colors, explicit motifs, feelings, situations, quotes, etc. There can be many expressions in a single collage or a direct message. It depends on the eyes looking.
My materials are primarily recycled materials. Collage materials can be from posters – new or old – or from fx outdoor facades, old magazines, books, newspapers, etc. I often cultivate the rustic expression and like to highlight a patina if it appears in the picture by one of the materials.
Working with art and the visual expression in this more organic way also gives the single collage a more vivid expression.
Therefore, many of my collages will not appear as "pure and clean". There may be scratches and irregularities etc.
All this is a part of the whole expression of the collage and is included as a component to the image.
The work with photo collages began to develop in the late summer of 2022, where I began to explore various photo programs and the endless possibilities for creative expression that lie in this tool.
In this context, I go to places with specific surroundings that gives me unique photos to work with, fx construction sites, abandoned areas or places with buildings, cemeteries, surroundings with many people, areas with graffiti etc.
It's no secret, that I'm following my mother's path completely here. And now I fully understand her enthusiasm for working with photography in this way.
You are always welcome to use the contactform in the menue, if you want to know more about my artworks.